Book series "FIR Edition"
Publish Expert Information
Our FIR edition series contain comprehensive information on the status quo and future developments of our topics.

Currently, there are three FIR book series:
With the FIR-Edition Studies we share findings from studies and research,
with the FIR-Edition Research we inform in detail about research results of individual projects
and with the FIR-Edition Praxis we offer all interested readers our expertise for quick implementation, in a more extensive and detailed form. The FIR-Edition Praxis is thus a maxi-version of our papers, in which we inform you with white papers, position papers and expert papers and share our knowledge.

You can find all our published FIR editions on the following website:
fir-edition.de.

---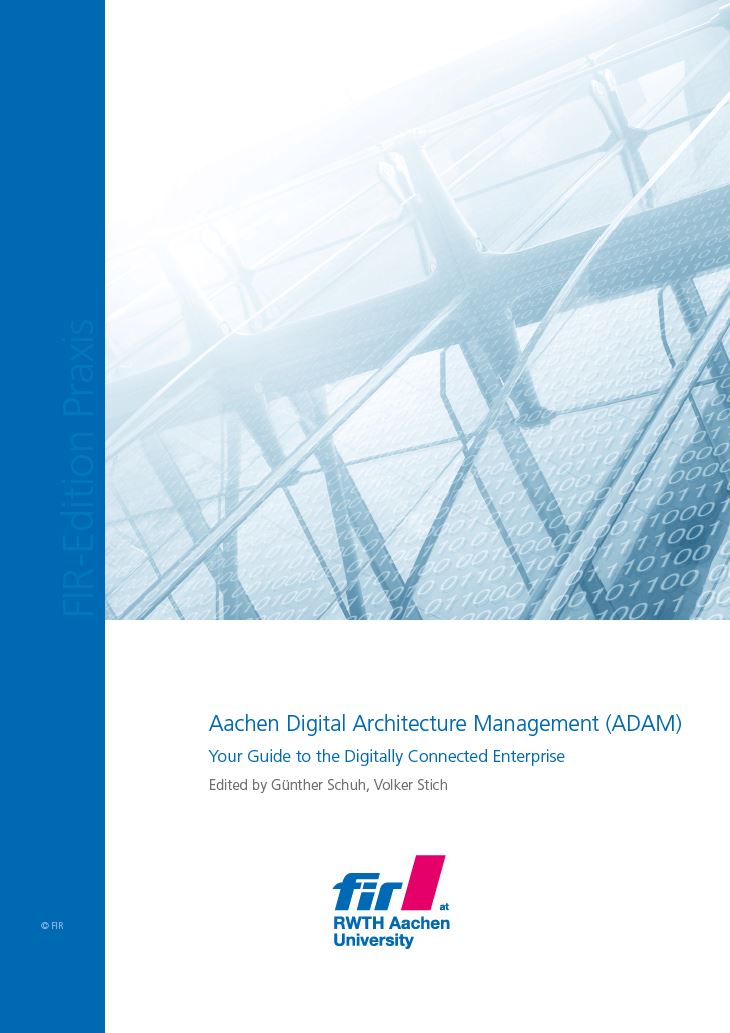 FIR-Edition Praxis: Aachen Digital Architecture Management
Connected digitalization as an enabler for intelligent products and data-based business models presents companies with a whole range of diverse challenges on their path to digital transformation. To support these companies, various reference architecture models have been developed in recent years. A detailed analysis of these models, and their usage by companies in particular, has quickly shown that currently existing reference models have significant limitations when applied in practice. The Aachen Digital Architecture Management, ADAM for short, provides a framework that addresses the weaknesses of existing reference architectures while incorporating their strengths. As a holistic model specifically developed for practical usage, ADAM structures the digital transformation journey of businesses in the areas of digital infrastructure and business development based on customer requirements. It empowers companies to drive forward the design of their digital architecture under consideration of various fields of action. The description of the fields of action offers a detailed insight into the essential tasks on the path to becoming a digitally connected enterprise. The model not only serves as a structuring support, but also contains a toolbox that helps to configure the digital transformation process. The process differentiates between the development of a digitalization strategy and the implementation of a digital architecture. Three different case studies show how ADAM is used in practice, what structuring support it offers, and how the digital transformation process can be configured. The breadth and depth of ADAM enables companies to follow the path of digital transformation in a systematic and structured manner without losing sight of the value adding components of digitalization. This qualifies ADAM as a sustainability-oriented framework, especially as it places economic scalability, needs-based adaptation, and future-proof robustness of solution components at the heart of digital transformation.
ISBN 978-3-943024-47-0
Ebenfalls als PDF auf englisch verfügbar.
Aachen Digital Architecture Management - Your Guide to the Digitally Connected Enterprise
ISBN 978-3-943024-47-0
---