EU-Practice
EU Activities at the FIR at RWTH Aachen University
Alongside cooperation projects on a national level, the FIR is involved in numerous projects funded by the European Commission with partners from all over Europe. The EU-Practice is the coordinating body between the research areas within our institute as well as with our European actors and networks. Across all research areas, the EU-Practice supports in the selection of relevant calls for proposals and in the management of the application process as well as in the establishment and administration of our international network. The EU-Practice is a 6-person team from each FIR research area and a full-time officer as coordinator.
Summarized, "the EU-Practice creates the optimal conditions for successful EU applications and a strong placement of the FIR in the European environment."



Successes
2022 was a very active year for FIR during which we submitted numerous applications. The EU Practice was able to submit nine EU applications in 2022 and we won five of them. Four more were submitted in spring 2023, for these we are still waiting for feedback.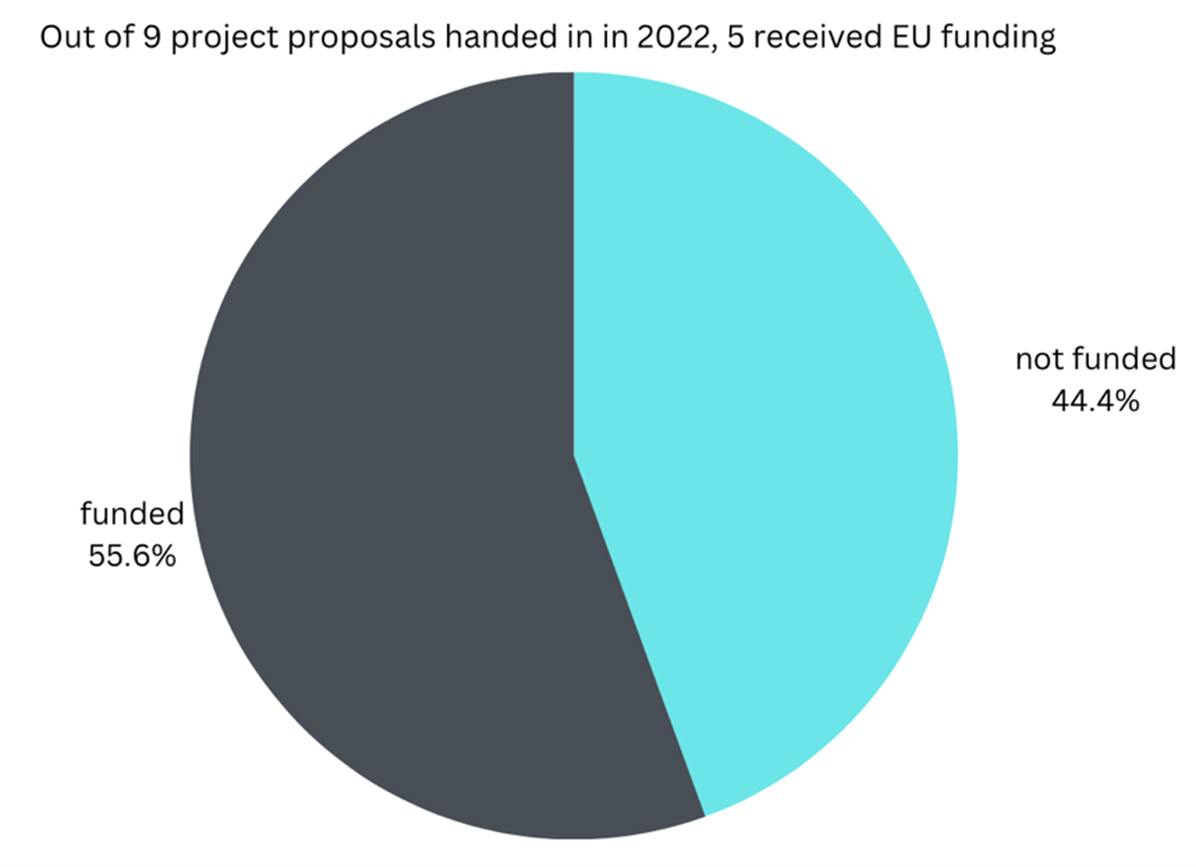 Currently, six EU-funded projects, each with a distinct research focus, are ongoing at the FIR. Three of the projects started on 01.01.2023, them being EDIH Rheinland, DATAMITE and Invest4Health. EDIH Rheinland focuses on high-performance computing and the use of such by small and medium-sized enterprises in the region. DATAMITE then is concerned with ways of monetizing data pools, whereas Invest4Health is concerned with financing models in the healthcare system. More information can be found on the respective project pages.
Finally, the INEDIT project ended in May 2023. In "INEDIT", a European co-creation platform for the sustainable development of furniture was developed. This was done through collaboration of end users, designers and producers all along the value chain. TO ring in the end of this project, a final meeting of all consortium partners in Paris together with the EU project manager was organized. In addition, a follow-up project of INEDIT was started, DIT-EU, in which the FIR again is involved.
The FIR was able to secure a funding commitment for the ReMuNet project, which the FIR is coordinating. The consortium consists of 22 partners from Germany, Austria, Belgium, Denmark and Finland. The project starts on 01.07.2023 and runs for 3 years. The project aims to identify disruptive events and assess their impact on multimodal transport corridors. This objective is to make the transport system more resilient to disruptions and local disasters, but also more sustainable.
| Title | Acronym | Time Frame | Key Words |
| --- | --- | --- | --- |
| Data Monetization, Interoperability, Trading & Exchange | DATAMITE | 01.01.2023 – 31.12.2025 | Data Governance, data security, data use, data monetization |
| Mobilizing novel finance models for health promotion and disease prevention | Invest4Health | 01.01.2023 – 30.06.2026 | Health system, financing models, financial incentives, fostering health, preventing diseases |
| Resilient Multimodal freight Transport Network | ReMuNet | 01.07.2023 – 30.06.2023 | Resilience of transport system, multi-modal transportation, mitigating disruptions, |
| Innovation and Entrepreneurship Actions and Trainings for Higher Education | IDEATION | 01.07.2022 – 30.06.2024 | Open innovation, Sharing Economy, social product development, citizen involvement |
| European Digital Innovation Hub Rheinland | EDIH Rheinland | 01.01.2023 – 31.12.2025 | Digitization in SMEs, Digital Skills, High Performance Computing (HPC), Artificial Intelligence (AI) |
| Open Innovation Ecosystem for Do It Together process | INEDIT | 01.10.2019 – 31.03.2023 | Open Innovation, furniture production, citizen science and product development |
| | DIT-EU | | Follow-up project of INEDIT |
Zusätzlich zu den erfolgreichen Anträgen und Projekten hat die EU-Practice bei einem Strategietag in Brüssel ihr Service-Portfolio überarbeitet. Zukünftig wird die EU-Practice als koordinierende Instanz und In-House Consulting für die verschiedenen Bereiche fungieren. Mit Expertise, die fachübergreifend gefördert wird, unterstützt das Team bei den komplexen Herausforderungen im Bereich der EU-Förderung. Ziel dabei ist es, erfolgreiche und effiziente EU-Anträge einzureichen, um dadurch das FIR auch auf europäischer Ebene exzellent zu platzieren.

Services of the EU-Practice:
The EU Practice is a cross-functional working group that aims to ensure the efficient and successful submission of research proposals to the European Commission.
The scope of services includes the following four measures:
The team does a continuous proposal screening in which suitable calls for proposals are identified and evaluated. This involves placing these calls for proposals in the research areas of the FIR. Once interest in a call for proposals has been sparked, the EU-Practice accompanies and advises the process of proposal writing. The support starts with the conceptual design and extends to the organizational and administrative implementation.

Project teams also benefit from the expertise of the EU-Practice during project implementation.

The tasks of the EU-Practice includes networking. The FIR has a membership in several international associations and maintains an active network with its partners.

In order to

develop and improve the services further, efficient knowledge management is of the essence. The EU-Practice follows the circular approach of sharing lessons learned and integrating them into the existing knowledge.
The European Factories of the Future Research Association (EFFRA) is a non-for-profit, industry-driven association promoting the development of new and innovative production technologies. EFFRA has been representing the private side of the manufacturing partnership with the EU Commission. The key objective of EFFRA is to promote pre-competitive research on production technologies within the European Research Area by engaging the European Commission through partnerships. Currently, the Made In Europe partnership is the voice and driver for sustainable manufacturing in Europe.
EARTO
https://www.earto.eu
EARTO promotes Research and Technology Organisations (RTOs) and represents their interest in Europe. RTOs are non-profit organisations whose core mission is to produce, combine and bridge various types of knowledge, skills and infrastructures to deliver a range of research and development activities in collaboration with public and industrial partners of all sizes. These activities aim to result in technological and social innovations and system solutions that contribute to and mutually reinforce their economic, societal and policy impacts. EARTO network counts over 350 RTOs in more than 32 countries.
The STAIR Committee (STAndards, Innovation and Research) is a working group of the Technical Bodies of the CEN-CENELEC organization. This organisation is composed of two out of three European standardization organizations officially recognized by the EU and the European Free Trade Association (EFTA) as responsible for developing and setting voluntary standards at the European level, CEN (European Committee for Standardization) and CENELEC (European Committee for Electrotechnical Standardization). Within the organization, the STAIR Committee is the central point of contact within CEN and CENELEC for all issues related to the integration of standardization and innovation and research.
EDIH4MANU is an informal, cross-regional and cross-national collaboration network consisting of 23 European Digital Innovation Hub (EDIH) candidates and 25 regions from 14 countries specializing in smart manufacturing. They represent more than 30% of the value added of the European manufacturing industry. EDIH4Manu network's mission is to drive the digital and sustainable transformation of small and medium-sized manufacturing companies in the EU through a combination of complementary and interoperable services.