Service Management
Developing, Providing and Marketing of Service Systems
Many companies are in the process of transitioning from being producers to service and solution providers. In an increasingly digitally connected world, successful industrial companies differentiate themselves through industrial services and the expansion of their offerings to include digital services.
The focus is on the consistent orientation towards customer benefit in terms of the service dominant logic. By combining smart products with physical and digital services into hybrid service offerings, superior value is created for the customer. The aim is to establish digital business models that are essentially characterized by scalability and forecasting capability.

With Subscription Business, Digital Products and Service Excellence is geared towards the key challenges posed by digitalization in the service sector.
This includes:
Building understanding of, developing and establishing participatory business models in connected ecosystems.
Development of the digital shadow for service and maintenance areas, as well as mastery of modern methods of data analysis and artificial intelligence.
Continuous further development of the service and digital business through permanent service innovation.
Organisation of the distribution of information and knowledge, as well as work processes and structures within the company.
Research and design of services with regard to the three principles of sustainability: ecological, social and economic.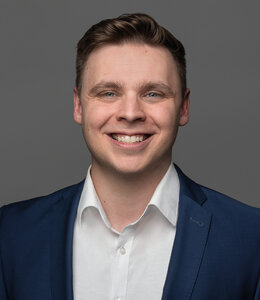 »
We enable companies and business units to design, market and efficiently deliver customer value-oriented service systems for their external and internal customers.
«
Dr. Lennard Holst
Department Service Management (Head)
Associated research projects
SolutiKo
DRivE
SCALA
DATAMITE
Invest4Health
diaMant
DiSerHub
IDEATION
SMART
KomiD
Chatbots in service
GALA
KI-LIAS
AirQuality
SubaSa
DM4AR
SubscriptionCanvas
SkaDL
INEDIT
Future Data Assets
Development and measurement of the digitisation of the economy in Germany
ReStroK
FuturePro
EVAREST
PlattformHybrid
LBM²
Sales Service
Analytics4Innovation
E-Mas
ReleasePro
add2log
MeProLI
WertGeiD
Digivation
ToMiC
ScaleUp
CSS 2.0
Smart Farming World (SmarF)
PreisFinder
DELFIN
Planning the variety of product service systems offers
EVIAK-DG
DispoOffshore
SmartMaintenance
LePASS
ELIAS
TiCo
SESI
SerVa
SERVSYNC
ServMo
BIRUZEM
KiZo
RhePort21
WinServ
MIND
Chain in Change (CIC)
iNec
NeGSt
SustainValue
OSE
Tech4P
ServTrade
EUMONIS
DIB
SiZu
Smart Wheels
Fit4Net
IMS2020
Smart Watts
MeDiNa
INESS
GemoTel
SEEK
MSCO
StarLog
ShipExcellence
r2b - robot2business
STEPPIN
TecPro
IH-Mix-Id
TPM-Navi
HyProDesign
ServTyp
Tool-East
InCoCo-S
MYCAREVENT