FIR – A Cluster-Coordinating Institute
Smart Logistics Cluster on RWTH Aachen Campus
The Smart Logistics Cluster is one of the six start-up clusters on the Melaten Campus. Since 2010, the Managing Director of FIR, Professor Volker Stich, has headed the Smart Logistics Cluster on the RWTH Aachen Campus. More than 500 people from science and industry are researching and developing solutions here for networking goods and information in a digital world of the future. The major changes, such as the shift in production, logistics, services, mobility and healthcare, are guiding the way of action here.
For Industrie 4.0 to succeed, smart logistics is needed to organize the demand-driven flow of goods, commodities and information along the value chains. These complex interrelationships are researched in the Smart Logistics cluster, made tangible and experienceable, and tested and implemented directly in practice. Important factors in meeting the demand for maximum process efficiency, maximum productivity and sustainability as well as climate and environmental protection.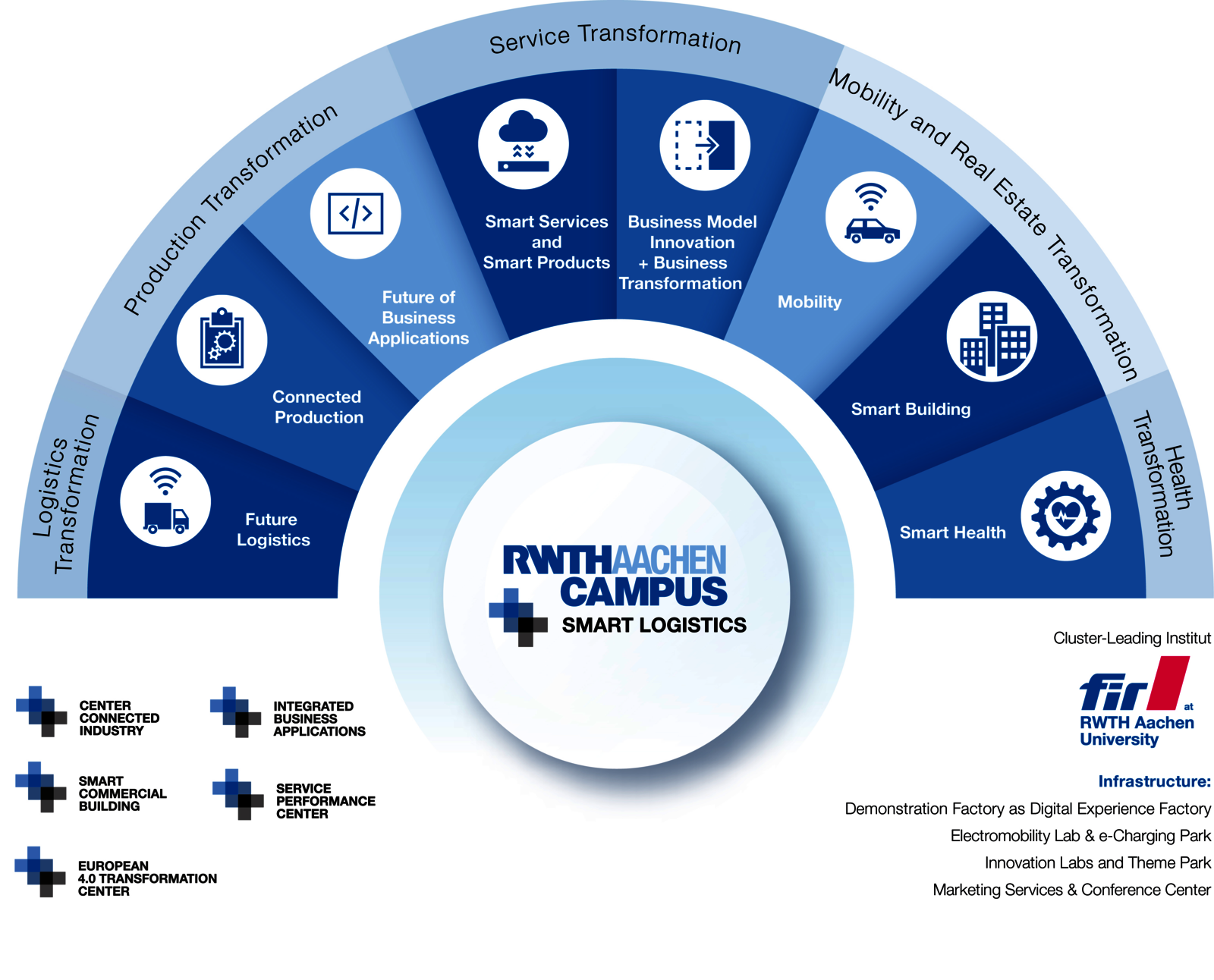 Fields of application:
Industrie 4.0 for manufacturing companies
Smart services and smart products
Business model innovation
Future Logistics
Business Applications
Mobility
Building
Smart Health
In the Smart Logistics cluster, users and provider companies work on potentials and solutions for companies in production, services and logistics as well as providers of information and communication technology.
Members have access to three innovation labs, a theme park, and the Demonstration Factory Aachen as a central manufacturing environment and 5G test environment to explore the potential for industrial applications based on various use cases.
The numerous events and training formats of the centers in the Smart Logistics Cluster and FIR e.V. are bundled in the Cluster Smart Logistics Academy.
Enrolled Members in the Smart Logistics Cluster