5G4Me
Evaluation of the potential of SME-relevant 5G use cases and business models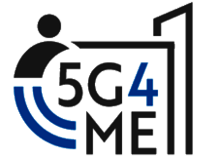 The aim of the '5G4Me' research project is to create a decision-making aid on the basis of which SMEs can examine whether and in what form they can integrate 5G into their business models.
Initial situation
5G, the fifth generation of mobile technology, promises to be an important enabler for the industry of the future. Innovative industrial services and applications as well as new operating and production models will emerge. While large companies are testing 5G in pilot projects and in some cases using it in series production, SMEs still have to overcome a number of challenges to 5G deployment.
Solution approach
The research project '5G4Me' focuses its activities in four work packages, in which the focal points are further developed together with the committee accompanying the project:
Typologization of 5G use cases for SMEs (internal potentials)
Impact of 5G on business models and the competitive environment of SMEs (external potentials)
Economic aspects and technical potential of 5G
Building of a 5G evaluation tool
Expected result
The final project results will be clearly presented in a publicly accessible web tool so that SMEs can quickly and easily identify relevant 5G use cases and assess their potential. This will enable SMEs to independently assess the individual overall potential of the new mobile technology.
Benefits for the target group
The project results achieved are expected to facilitate SMEs' decision-making and enable them to realize the value creation potential of 5G more quickly and in a more targeted manner.
Research Focus
Informationstechnologie­management
FIR Navigator
5G
Contactperson
Projectinfos
Funding no.
22122 N
Funding information
The IGF project 22122 N of the Research Association FIR e. V. at the RWTH Aachen University is funded via the AiF within the framework of the programme for the funding of cooperative industrial research (IGF) by the Federal Ministry for Economic Affairs and Climate Action (BMWK) on the basis of a resolution of the German Bundestag.