BaSys4Dash
Implementation of BaSys 4.0 for decision support via dashboards in manufacturing companies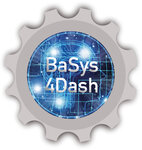 The aim of this research project is to extend the open platform for the fourth industrial revolution, 'BaSys 4.0 - Basic System Industry 4.0', to a partially automated decision support based on dashboards in two user companies and to apply it. In addition, the secondary objective is to create a guideline that describes how these dashboards can also be set up and used in other applications.
Further secondary objectives of the project are:
Enhancing BaSys 4.0 with new micro-services to enable raw data analysis
Enhancing BaSys 4.0 with adapted management scales for information systems
Developing a method for individual configuration of dashboards
Initial situation
Evaluations of raw data, which are used for making decisions, are nowadays mainly carried out manually. Only 27 percent of strategic and operational decisions in German medium-sized companies are made on the basis of data. In order to create a basis for this, measures are needed that range from networking the machinery and changing organizational structures to effective and secure IT solutions. Digitalization opens up opportunities for manufacturing companies, especially with regard to optimizing process times, resources and responsiveness to individual customer and market needs.
Solution path
The stated objective is achieved through six subgoals:
Usecase analysis to determine decision support requirements
Architecture and system design for application partners
Concept design for integration of dashboards
Micro-Services for application cases/areas
Implementation of decision support for application partners
Description of the possibility of further use and adaptation of the developed solutions
Benefits for the Target Group
The project results will be used to enable manufacturing companies to make data-based decisions.
Further Links
UdZ Article: "Satellite Project for Further Development of the BaSys 4.0 Software System in Practical Application"
Associated partners
Branch
IT, Software and Internet
Machinery and Plant Engineering
Research Focus
IT-Komplexitätsmanagement
Informationstechnologie­management
JRF Guiding Topic
Society & Digitization
Industry & Environment
Contactperson
Projectinfos
Funding no.
01IS19006A