DiSerHub
Transformation-hub for an improved, more sustainable usage of cars through service and digital business models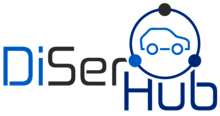 The aim of the research project 'DiSerHub' is to secure the competitiveness of the German automotive industry by establishing an information platform that contributes to the transfer of knowledge and the networking of actors in the automotive industry with a sustainable transformation concept and thus works on an improved, more sustainable use of automobiles with the help of digital services and digital business models.
Initial situation
Automobile manufacturers must move away from their product-centric orientation and focus on users and their mobility. This offers the opportunity to generate new sources of revenue through digital services and business models.
Solution approach
In order to address the topic of digital services and digital business models holistically and comprehensively, five research institutions are forming a transformation hub operating throughout Germany. The partners complement each other in terms of content focus, network technology and geography, so that optimal knowledge transfer is guaranteed. To this end, a platform is being set up in which best practices from research activities are made available to the stakeholders concerned.
Expected result
After the end of the project, transfer knowledge will be made available to all actors in the form of online and live formats. In addition, the platform will serve as a first point of contact for expertise and success practices in the field of digital services and digital business models.
Benefits for the target group
The knowledge required for the digital transformation is bundled and made available to the players in the automotive industry in a low-threshold manner. In addition, 'DiSerHub' acts as an exchange platform and in this way promotes both new projects and interdisciplinary exchange between the players. This enables them to scale quickly and strengthen their competitive position vis-à-vis other digital companies.
Associated partners
Branch
Vehicle, special Vehicle and Automotive
FIR Navigator
Digital Skills Development
Pricing of Digital Services
Subscription
Transformation Management
Sale of Digital Services
Your Contact Persons
Projectinfos
Funding no.
16THB0004A