EDIH Rheinland
European Digital Innovation Hub Rheinland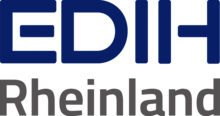 The aim of the research project 'EDIH' is to further develop SMEs in the Aachen region in terms of their capabilities in the areas of digital skills, artificial intelligence and high-performance computing through funded training, consulting services, and information events.
Initial situation
SMEs in the Aachen region have begun to focus more on artificial intelligence (AI), digitization and high-performance computing (HPC) in recent years. However, the starting position of German SMEs in the Aachen region is mixed. On the one hand, there are many companies that are already investing heavily in these areas and expanding their digital competencies. These companies have recognized that a strong digital presence and competence can be a decisive competitive advantage. On the other hand, however, there are also many SMEs that have not yet invested sufficiently in these areas or have difficulty finding the necessary skilled workers or have concerns about data security and data protection, which makes it difficult to introduce AI and business software, for example.
Solution approach
In the EDIH project, consulting services, training and information events are offered by a wide-ranging consortium to enable SMEs in particular to develop further in the areas of digital skills, AI and HPC.
Expected result
SMEs will thus have the opportunity to use the consortium's services free of charge during the project period and to develop themselves further in the three areas. In particular, the training and consulting services can be used for employee development and the implementation of small prototypes. SMEs in the region are thus individually supported in their digital transformation.
Benefits for the target group
The benefits amount to individual support from the consortium for staff development and implementation of consulting projects.
Branch
Services public/private
Printing, Paper and Packaging
Electrical, Precision and optical Engineering
Consumer Goods
Machinery and Plant Engineering
Medical Engineering
Automation and Measurement Engineering
Pharma
Transport and Logistics
Research and Development
FIR Navigator
AI and Data Science
Business Analytics
Cybersecurity
Data-Based Shopfloor Management
Introduction of New Business Software
Internet of Production
IoT Platform
Process Mining
Smart Maintenance
Your Contact Persons
Projectinfos
Funding no.
10108363
Funding

Europäische Kommission
Promoters
Europäische Union (EU)