MYCAREVENT
MOBILITY AND COLLABORATIVE WORK IN EUROPEAN VEHICLE EMERGENCY NETWORKS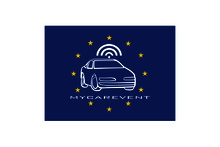 The goal of MYCAREVENT was an integratet mobile service in the automobile after sales market.
MYCAREVENT was an integrated Project funded by the European Commission in FP 6. The consortium consisted of car manufacturers, road side service providers, ICT-experts as well as research institutes. It aimed at establishing of a Mobile Serviceworld in the European automotive after-sales market. The transfer, analysis and use of repair information has been holistically supported.
The automotive market – as from the economic perspective one of the most important European markets – is currently experiencing the impact of new legal regulations from the new "block exemption". Car manufacturers have to share repair and diag-nostic information with the market participants of the European automotive aftermarket. Hence, new collaborative networked organizations and new business models are required, which will be supported by innovative applications and devices. MYCAREVENT was a European research initiative consisting of leading industrial partners of the automotive sector, and researchers focused on service development, process and organization management, e-Business, communication networks, as well as artificial intelligence and human-computer-interaction. These partners generated new business models which should provide innovative services to the customer in a post "block exemption" era.
Topic Area
Information Management
Production Management
Service Management
Projectinfos
Funding no.
004402
Funding
Europäische Union (EU)
Promoters

Europäische Kommission