OSE
Overall-Service-Efficiency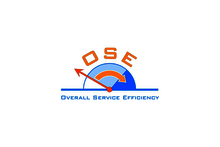 Purpose of the OSE research project was the development of a measurement model which aimed at making the order processing efficiency of industrial services ascertainable and assessable based upon types of waste. Therewith, the basis was laid for well-directed and efficiency increasing improvements.
The consistent identification and avoidance of resource wastage is an essential basis to the significant reduction of costs concerning the provision of industrial services. Furthermore, the frictionless course of the service process is a substantial quality feature of services and can thus contribute to improving the customer satisfaction.
Through the conclusions of the OSE (Overall-Service-Efficiency) research project, especially SMEs were put in the position to now realizing their latent productivity potential via valid improvements. The research project should thus make an essential contribution to the sustainable increase of SMEs performance and competitiveness.
Topic Area
Service Management
Production Management
Projectinfos
Funding no.
16788 N
Funding information
Das IGF-Vorhaben 16788N der Forschungsvereinigung FIR e. V. an der RWTH Aachen, wurde über die AiF im Rahmen des Programms zur Förderung der industriellen Gemeinschaftsforschung und -ent-wicklung (IGF) vom Bundesministerium für Wirtschaft und Technologie aufgrund eines Beschlusses des Deutschen Bundestages gefördert.