POLAR
Production facilities with intelligent load and energy management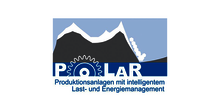 The POLAR research project aims to provide an universal and economically appliable demand side and energy management system for industrial companies. The system's control will be based on external price signals.
The energy consumption of the various production facilities should be hereby identified and reduced by up to 25% of its value. The target groups in this project were manufacturing companies which featured lower energy consumption levels and have so far been without access to load management solutions. Designing an open ICT architecture and defining the standardized interfaces was essential for the target achievement in order to incorporate both existing and new plants as well as solutions from various manufacturers.
The approach could be divided into following steps:
First, requirements and documentations were all registered in the specifications sheet. Based on that, the Information Logistic Concept (FIR) was built on which the energy management software (Adapton) was based. In parallel, the EEBus's functionality was expanded (Kellendonk). The EEBus acts as a mediator between energy management systems on the one hand and energy measurement infrastructure on the other. The system was tested in the production line at FIR initially and subsequently within the production line of the industry partner (EGO).
Simulation Game "Energy Manager Polar"
The simulation game "Energy Manager Polar" was developed as part of the research project Polar at the Institute for Industrial Management, FIR at RWTH Aachen University. The game allows its player an insight into load and energy management in production companies which is necessary in order to meet the challenges of the energy turnaround. The reasearch project POLAR aims at providing industrial companies a universal und economically viable solution for load management and energy monitoring. The ideas developed in this project will be directly tested at "Demonstrationsfabrik Aachen", a reference factory for Industry 4.0 at the Cluster Logistic. Therefore, the "Demonstrationsfabrik Aachen" will be modelled in the simulation game and based on that the player has to produce 3 MAXeKarts.
Before you start, please pay attention to the following steps::
1. Please read the simulation game manual here
>> Game manual (PDF)
2. Download the software"Scilab" for free here.
>>Download Scilab
3. Download the simulation game package from energiemanager-polar.fir.de and unzip the downloaded file. A data file Simulation_game.sce can be found in the unzipped folder. This file is a Scilab script. By double-clicking it, Scilab will open it and launch the game.
>>Download the simulation game package (ZIP)
Enjoy the game!
Research Focus
Informationslogistik
Informationstechnologie­management
Contactperson
Projectinfos
Funding no.
01LY1208B
Promoters

Projektträger im DLR
Further information