SiLKe
Safe food chain through the application of blockchain technology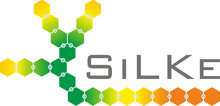 The overall objective of the research project is to increase the transparency and security of food production and logistics processes and structures via blockchain technology. To this end, the project aims to enable high-resolution traceability and at the same time ensure protection against counterfeiting.
Many companies in the food industry struggle to meet traceability requirements. It often takes considerable amounts of time to identify the cause of contamination, therefore increasing risk and potential exposure. Once the cause has been identified, it is time-consuming and expensive to isolate the contaminated food.
Right from the start, user requirements will be extensively researched. The model and concept of an overall architecture for the food chain will be designed and, after appropriate conceptualization of the overall architecture, dedicated smart contracts as well as interfaces, the corresponding block-chain-based platform will be implemented. Additionally appropriate analysis and visualization components will be added and made available, offering flexible adjustment possibilities. The results obtained will be tested and validated in use cases, followed by a profitability and acceptance analysis. Finally, a demonstrator will be developed, which maps a reference supply chain and visualizes the applications of the created results.
Through access to a flexible blockchain platform template, smart contracts, analysis and visualization components as well as methods for acceptance analysis and a tangible demonstrator, companies are offered an entry point to implement their own blockchain-based solutions.
The results of the project offer companies, in addition to increased transparency and safety, the basis for new products and business models, proof of the technical feasibility of a blockchain in the context of food-traceability and an approach for the sustainable strengthening of customer relationships.
FIR Navigator
Blockchain
End2End Process Excellence
Supply Chain Data Management
Contactperson
Projectinfos
Funding no.
13N15092-13N15098; 13N15092
Promoters

VDI Technologiezentrum GmbH
Further information
Der Abschlussbericht zu diesem Forschungsprojekt ist über den FIR e. V. an der RWTH Aachen erhältlich: epub(at)fir.rwth-aachen.de