SkaDL
Scaling of industrial services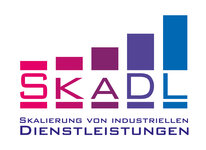 The aim of the research project SkaDL is to provide a decision support for scaling services. In the case of SMEs, the choice of strategy has to be made taking into account their own business capabilities and goals, since only in this way can scaling be carried out in a resource-efficient and benefit-oriented manner.
Initial situation
Small and medium-sized enterprises (SMEs) often lack knowledge of how to expand into untapped markets and scale up their service offering.
Industrial service providers face the following problems:
Companies do not know which scaling strategy is best suited to achieve individual company goals.
SMEs lack concrete guidelines for action to help them implement the best individual scaling strategy.
Solution approach
First of all, it is possible to assess the extent to which a company's capabilities and goals match the requirements and benefits of pre-selected scaling strategies and the concepts behind them.
Expected result
A demand-oriented action guideline is created, how the company can successfully implement the scaling under consideration of the digital design fields.
Benefits for the target group
This will enable SMEs to enter new markets and scale their service offering with the most appropriate strategy.
Branch
Machinery and Plant Engineering
Contactperson
Projectinfos
Funding no.
20985 N
Funding information
The IGF project 20985 N of the Research Association FIR e. V. at the RWTH Aachen University is funded via the AiF within the framework of the programme for the funding of cooperative industrial research (IGF) by the Federal Ministry of Economics and Energy (BMWi) on the basis of a resolution of the German Bundestag.