SMART
Smart Service Maturity Assessment and Readiness Index for Transferring Companies to successful Smart Service Providers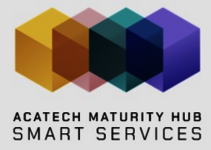 The aim of the research project 'SMART' is to support companies in the transformation process towards becoming smart service providers with the help of a maturity-based web tool.
Initial situation
Currently, only 0.7 percent of the sales of European mechanical engineering companies are generated with digital platforms and value-added services. However, revenues from digital business models are growing five to eight times faster than those from traditional business models. Networked products supply a large amount of data via the Internet of Things. After appropriate collection, storage, analysis and evaluation, they can be used to provide customizable, data-driven and platform-based services based on innovative digital business models.
Solution approach
The aim of the 'SMART' project is to develop a set of tools to help manufacturing companies systematically make the transition to smart service provider by identifying their advantageous positioning in the smart service world and showing ways of realizing this positioning. It is based on the development of a maturity index (smart service maturity index) for the transformation to a smart service provider.
Expected result
As a project result, a Smart Service Maturity Quick Assessment will be developed as a freely accessible web-based tool for a quick self-assessment of the maturity level (status quo) including a generic gap analysis for the identification of strengths and weaknesses in the adaptation and generic roadmap development providing recommendations for action to achieve the selected target maturity level.
A more in-depth accompanied assessment is offered to companies by the consortium partners on an as-needed basis. It provides companies with access to assessors who use the index and, with their input, can perform a maturity assessment as well as an individualized in-depth gap analysis and roadmap development via the Smart Service Maturity Platform, which was also developed.
The Smart Service Maturity Hub serves as a one-stop store for interested organizations, providing the Smart Service Maturity Quick Assessment and more in-depth information about the maturity index, its development, and the development team.
Benefits for the target group
The project serves as a catalyst for the successful and economic implementation of smart services and thus contributes to securing and improving the competitive position of German companies in the digital competitive arena.
Branch
Printing, Paper and Packaging
Electrical, Precision and optical Engineering
Vehicle, special Vehicle and Automotive
Building Services Engineering
Machinery and Plant Engineering
Medical Engineering
Automation and Measurement Engineering
Metals and Glass
Contactperson
Projectinfos
Funding no.
01MT22004C
Funding information
Funded by the German Federal Ministry of Economics and Climate Protection (BMWK).
Final report
The final report on this research project is available from FIR e. V. at RWTH Aachen University - epub(at)fir.rwth-aachen.de.
Further information
Der Abschlussbericht zu diesem Forschungsprojekt ist über den FIR e. V. an der RWTH Aachen erhältlich: epub(at)fir.rwth-aachen.de