Fit4Platform
Development of a maturity model for the introduction to the platform economy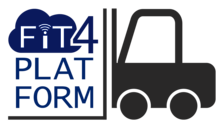 The aim of the research project FIT4Platform is to support SMEs in contract logistics, which currently use established business models, with the successful and low-cost implementation of digital platforms into their existing business models.
Initial situation
The cross-sectoral digitization of the economy is not only leading to the creation of innovative products and services, but also to a change in existing market logics such as the increased use of platforms. However, almost half of the established logistics service providers do not yet plan to use digital platforms. As a result, solutions external to the industry, such as Flexport and Uber-Freight, are pushing into the market and threatening to take over by offering more cost-effective customer-specific services.
Solution approach
At the beginning of this research project, a market analysis of existing digital logistics platforms will be conducted and then combined with decision criteria of logistics service providers. From this, a decision tree will be generated, which supports logistics companies in choosing the right strategy. This is followed by the development of implementation strategies for joining the platform or founding their own platform and the realization of all results in an application tool.
Expected result
As an outcome of the project, evaluation methods are to be developed so that logistics service providers can select precisely in a targeted manner which existing digital platform they join. In addition, management strategies will be developed to help SMEs to set up their own digital platform and to facilitate business transformation.
Benefits for the target group
The project aims to enable contract logistics service providers to exploit the potential of digital platforms and thus ensure their long-term competitiveness. The identified problem of insufficient selection and realization expertise for the implementation of digital platforms will be remedied.
Topic Area
Business Transformation
Production Management
Research Focus
Business Transformation Management
FIR Navigator
Business Model Innovation
Platform Economy
Contactperson
Projectinfos
Funding no.
20802 N
Funding information
The IGF project 20802 N of the Research Association FIR e. V. at the RWTH Aachen University is funded via the AiF within the framework of the programme for the funding of cooperative industrial research (IGF) by the Federal Ministry of Economics and Energy (BMWi) on the basis of a resolution of the German Bundestag.