ProMiConE
Universal Process Mining Connector for ERP Systems and Order Processing Use Cases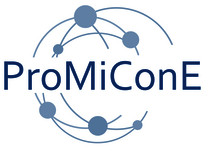 The goal of the research project "ProMiConE" is the development of a universal process mining connector for ERP systems and related use cases for process mining within the order fulfillment process.
Initial situation
The process mining technology enables companies to perform data-based analysis and derived optimization of business processes. However, the application of process mining is very time-consuming and expensive for small and medium-sized enterprises (SMEs). This is mainly due to the time-consuming and thus resource-intensive data preparation and analysis, for which expensive specialized personnel are required. In this respect, most SMEs lack expertise in the area of data preparation and the definition of suitable process mining use cases.
Solution approach
The following steps are planned to achieve the goal:
Requirements analysis for process mining
Transaction-oriented process model of order processing
Identification of process mining use cases
Reference data model of order processing for process mining applications
Development of an extractor for object-centric event logs
Validation of the results in the company
Expected result
This project aims to simplify the applicability of process mining technology for companies. The project will identify use cases for the application of process mining in order processing and develop a reference data model for order processing and an extractor for object-centric event logs.
Benefits for the target group
The Process Mining Connector for ERP systems in the form of the developed reference data model, the extractor and the underlying process mining use cases enables SMEs to get started economically and quickly with the analysis of order processing business processes. This allows SMEs to realize the potential of data-based process optimization of order processing through process mining.
Research Focus
Produktionsplanung
Produktionsregelung
FIR Navigator
Process Mining
JRF Guiding Topic
Society & Digitization
Industry & Environment
Contactperson
Projectinfos
Funding no.
22485 N
Funding information
The IGF project 22485 N of the Research Association FIR e. V. at the RWTH Aachen University is funded via the AiF within the framework of the programme for the funding of cooperative industrial research (IGF) by the Federal Ministry for Economic Affairs and Climate Action (BMWK) on the basis of a resolution of the German Bundestag.