ServiceAnalytics
Implementation of Service Analytics to sustainably increase the service profitability in mechanical engineering SMEs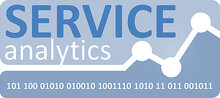 The objective of this research project was the development of well-suited analytics algorithms for the phases of the management of industrial services in mechanical engineering companies as well as the embedding of these algorithms into an SME-appropriate procedure of Service Analytics.
Due to the digital transformation of the economy especially companies of the mechanical engineering sector command a huge amount of so far unused data about their customers. These data obtained by sensors and with agreement of the customers transmitted built the basis for Business Analytics.
Until now Business Analytics is hardly developed in the service society of mechanical engineering companies. That is, even though on the one hand the data basis is given and on the other hand the profitability of the business sector of industrial services varies significantly from company to company.
Many mechanical engineering companies do not succeed in realizing the reachable profitability in the service business. A better basis of decision-making allows for targeted influence of the main components of profitability: service turnover and -costs.
The concrete implementation and execution of Business Analytics requires strong expertise. For SME with their limited (personal-) capacities it is hardly possible to collect these expertise by themselves. Therefore it was neccessary to develop a SME-appropriate form of Service Analytics. The core consisted of the development of suited analysis algorithms for the different phases of service managements like e.g. portfolio design, capacity design and management of the service personel.
Contactperson
Projectinfos
Funding no.
19164 N
Funding information
The IGF project 19164 N of the research institue FIR e.V. an der RWTH Aachen research institute for rationalization, Campus-Boulevard 55, 52074 Aachen is funded within the program to support the industrial collective research by the Federal Ministry of Economic Affairs and Energy on the basis of a resolution of the German Bundestag.