RPAcceptance
Sustainable use of the efficiency potential of Robotic Process Automation (RPA) in SMEs by promoting acceptance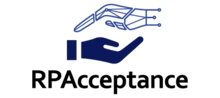 The goal of the RAcceptance research project is the sustainable use of the efficiency potential of robotic process automation (RPA) in SMEs by promoting acceptance. Those factors are determined and addressed which positively as well as negatively influence the acceptance of the use of RPA software.
Initial situation
Various studies show that companies benefit from the efficiency potential offered by RPA. The use of this bridging technology makes it possible to automate large parts of administrative activities in companies through standardized data processing. For the targeted application of RPA, the acceptance of employees in dealing with software robots is critical to success. Consequently, the barriers and promoters of this acceptance must be identified and addressed.
Solution approach
Within the scope of the project, the various technological manifestations of RPA under the influence of artificial intelligence will be differentiated from one another. Furthermore, the general acceptance of employees with regard to the use of RPA is to be determined with the help of a questionnaire study. The project focuses on the development of an acceptance model between humans and RPA software, which includes all relevant influencing factors of employee acceptance. This model will be tested with the help of a behavior-oriented laboratory experimental design and an online study. Based on the findings, training concepts for the step-by-step increase of RPA acceptance will then be developed and tested with the committee accompanying the project. This ensures a sustainable approach to the systematic use of RPA by ensuring employee acceptance.
Four key outcomes are targeted in the project:
Identification of the technological manifestations of RPA under the influence of artificial intelligence
Survey of the status quo in terms of employee acceptance of RPA use in industry
Development of a validated acceptance model
Training concepts for ensuring employee acceptance
Benefits for the target group
The results of the RPAcceptance research project will enable SMEs in Germany to reduce the existing biases of technology use, improve employee acceptance in the long term, and introduce targeted qualification measures for employees.
FIR Navigator
Robotic Process Automation (RPA)
Contactperson
Projectinfos
Funding no.
21512 N
Funding information
The IGF project 21512 N of the Research Association FIR e. V. at RWTH Aachen University, Campus-Boulevard 55, 52074 Aachen, was funded by the Federal Ministry for Economic Affairs and Climate Action (BMWK) via the AiF within the framework of the programme for the promotion of joint industrial research (IGF) on the basis of a resolution of the German Bundestag.