Business Transformation
Strategically Designing and Implementing Digital Transformation for Companies
In an increasingly digitalized world, the abilities to innovate and adapt to new situations are key success factors for companies. This requires businesses to learn entirely new skills which empower them to make use of data and collaborate on new forms of value creation within what can be termed the platform economy. Practice shows that these skills are not as yet sufficiently established – or not established at all – and that numerous innovation and transformation projects fail.
Against this backdrop, the Business Transformation section is concerned with the underlying principles of successful transformation, providing guidance on how the digital transformation process is to be designed and how companies need to position themselves in the new era of digital economy, with its platform-based business models and ecosystems, and how they can strategically leverage the vast amount of available data.
The Business Transformation division understands transformation as a significant, strategically relevant paradigm shift that results in the fundamental redesign and realignment of central value creation processes. The central hypothesis is that digital technologies, such as data analytics, the interconnection of individuals and things, Blockchain techologies not only lead to new services and business models, as part of a strategic reorientation, but also enable a fundamental redesign of the structures, processes and behavioral patterns of companies. It offers the opportunity to strategically redefine one's entrepreneurial activities and objectives. This understanding emphasizes a complete redefinition of business activities and differentiates itself from approaches that serve to increase the productivity of existing processes and systems without questioning their enormous importance.
Against this backdrop, the Business Transformation unit develops methods and processes for solving the following two entrepreneurial challenges:
Digital Leadership: Design principles of digital transformation and methods for executives and managers which meet the high demands of digital transformation projects and their concomitant change processes.
Ecosystem Design: Models and processes of value creation design in the platform economy and open forms of cooperation.
The Business Transformation Canvas was developed to cope with these and other current entrepreneurial challenges. It provides a framework for the sustainable implementation of a transformation as well as associated management tasks and serves as orientation for the responsible managers. The Business Transformation Canvas comprises 20 design fields that support the transformation process holistically from a strategic objective to a comprehensive roadmap.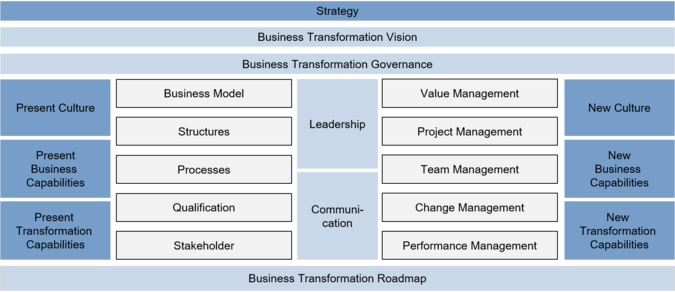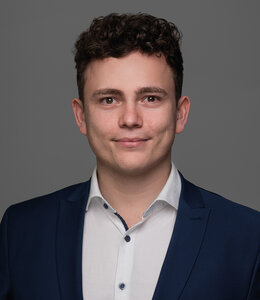 »
We support companies in the sustainable realization of business innovations and in the establishment of strategic capabilities for transformation.
«
Gerrit Hoeborn
Department Business Transformation (Head)
Associated research projects
Ready4ESG
DiCES
DecentraLEAD
Invest4Health
TuWAs
COPPA
BAValue
SoW
STAFFEL
FlyNet
AKzentE4.0
OKReady
mMEU
PROmining
RPAcceptance
Legitimise IT
Fit4Platform
Competence-Center 5G.NRW
Di-Link
REPAST
RPAsset
BAsuccess
PlattformHybrid
UrbanMove
SiTra 4.0
Digivation
INGEMO
myneDATA
ServiceAnalytics
fit4solution
Smart Building
ELIAS
BIRUZEM